We offer chiropractic care to people in all phases of life. We believe that chiropractic care can be the cornerstone for setting your entire family up for a more vibrant & resilient expression of life. Whether you are experience specific health concerns or just want to elevate your life expression, we are here to serve you.
YOUNG PROFESSIONALS + PAIN PATTERNS

How we carry ourselves throughout our work week & into our weekend can directly impact our state of health! Dr. Matthew prides himself on being able to connect with individuals of all walks of life & enjoys working with young professions & individuals seeking to take control of their healing journey! If you find yourself at a desk throughout your week or are on your feet hustling, Dr. Matthew is here to empower & educate you through intentional chiropractic adjustments & functional movement exercises to get your body feeling 100% so you can do what you love to do with energy and vibrancy.
PREGNANCY & POSTPARTUM SUPPORT

At Evolution Chiropractic we care for women through all phases of perinatal care.
Dr. Matthew is Webster Certified through the International Chiropractic Pediatric Association. The Webster Technique is a specialized prenatal chiropractic technique that helps to ensure the pelvis and surrounding structures are properly supporting the growth and development of the baby. This can allow for an easier, more efficient pregnancy. Dr. Matthew is also a member of the International Chiropractic Pediatric Association and continually advances his education through courses specific to pregnancy and pediatric chiropractic care. Interested in learning more about the Webster Technique? Click here for more information.
INFANTS & CHILDREN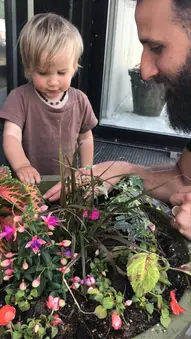 One of the very first physical traumas we encounter is the birth process. During the first few years of life, essential brain and body changes occur that are crucial to a child's lifelong growth and development.
Through intentional pediatric chiropractic care, a child has the ability to thrive and evolve right from the start, naturally.
Dr. Matthew has advanced training in pediatric chiropractic care and is able to assess if your child is functioning at their best. Getting your child checked by a chiropractor regularly from birth ensures their system is clear and connected so they can better adapt to life stressors and develop optimally.
Dr. Matthew is the only Certified Pediatric Practitioner in the Keene area and is proud to be able to offer care to newborns, infants, and children of all ages.
MOVEMENT & BREATH EDUCATION
Evolution Chiropractic is dedicated to educating and empowering individuals to move from pain to performance. Utilizing Foundation Training (FT) and Breath Education has been shown to help many individuals overcome their pain patterns and get back to living their lives!
FT is a very simple, yet profound series of bodyweight exercises and poses designed to restore natural movement patterns to the body. Through the principles, poses, and movement patterns of FT, the body learns how to move more effectively, adapting towards health rather than breakdown. As these patterns become embedded in daily life, the degeneration processes that cause chronic pain/breakdown can be addressed and avoided. FT simply re-educates the body to adapt to gravity with muscular support rather than passively compressing into joints.
Applying the principles of FT after a chiropractic adjustment is an amazing way to build neuroplasticity within the central nervous system so your body can remember and retain this new biomechanical shift and integrate new healthy movement patterns.